There is always a degree of anxiety when travelling, whether for business or pleasure.
Even a short delay could potentially cause you to miss a flight transfer and completely interfere with your travel plans. So a good deal of planning and preparation is required to ensure that you get to your destination on time.
Unlike other major capital cities such as Sydney and Brisbane, there is currently no rail line that services the Perth Airport. The alternative for passengers is travelling on slow buses or paying for a taxi which typically have long lines during peak hours and holidays. Both of which can make your travels even more stressful especially if you are already short on time.
A more reliable and luxurious option is to hire an airport transfer service. The following looks at the many advantages of booking private chauffeur services and what you can expect.
1. Effortless Booking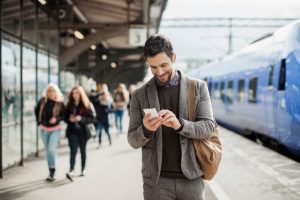 Booking airport transfer services is easier than ever.
The advantage of booking online or over the phone is being able to book according to any requirements you might have. For example, if you are travelling with a larger party, then you would want a vehicle that can accommodate all your passengers. Likewise, you may want a more luxurious vehicle if you are on a business trip with clients.
Either way, you can easily book one of our chauffeur services to suit your requirements and budget. With other alternatives, your choices are rather limited to a few options.
2. Less Stress
Travelling is already an incredibly stressful ordeal. But hiring a private transfer service can greatly reduce travel anxiety, as it means you have one less thing to worry about.
Once you arrive, your chauffeur will be there to meet you inside the airport terminal and assist with your luggage back to the vehicle. So you get to your next destination on time and in luxurious comfort. This certainly beats hauling your luggage around or waiting in long taxi lines. Having a pre arranged chauffeur service, relieves a great deal of stress when travelling.
3. Reliable Transportation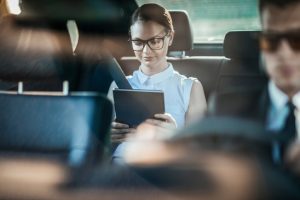 Reliable transportation is another advantage of hiring private airport transfer services.
Taxi ranks are often plagued with long lines especially during peak hours or during the holidays and buses can also be rather slow and they may not necessarily be near your next destination. When you are tight on time, every minute counts as the last thing you want is to miss an important event.
Airport transfer service providers not only show up on time, but also track your flight in case there are any delays or the flight arrives earlier than expected. Reliable transportation ensures you get to your next destination with time to spare.
Looking for airport transfer services?
Then get in touch today with Link Airport Perth today, we offer hassle-free transportation services and have a fleet of vehicles available to meet any of your travel requirements. We serve all Perth Metro suburbs and strive to deliver the most professional chauffeur service in Perth.