When travelling to a new destination it pays to be prepared ahead of time. That way you have a better idea of how to get to your next destination with plenty of time to spare. The last thing you would want is to miss an important meeting or event due to lack of planning.
One thing to note though is that unlike Sydney and Brisbane, there are currently no rail lines that service the airport. Fortunately, there are many convenient options available to get to and from Perth Airport.
Taxis
Regardless of how early or late your flight is, taxis are available 24 hours a day, 7 days a week at the front of all terminals. It takes approximately 20 to 25 minutes to get to the city centre depending on traffic. Note that the queue for the taxi rank may be longer during peak hours and holidays, and fees will depend on your destination. Your driver may ask you to pay your fare ahead of time.
Connect Shuttle Bus
The Connect Shuttle bus is another convenient transfer option with pickup and drop off points in several locations in Perth:
East Perth train station;
Western Australia Museum on Beaufort Street;
Wellington Street near the Backpackers Hostel;
The Kings Perth Hotel;
The Ambassador Hotel.
Tickets for the Connect Shuttle bus are $15 per passenger and can be purchased on the day, directly from the driver. Note that the shuttle operates to T3 Domestic. To get to the other terminals, you will need to take one of the transfer buses.
Public Transportation
Public transportation is also available with regular buses that travel between Perth Airport, Perth City, and other centres. Bus route 380 runs daily between the Elizabeth Quay Bus Station and T1/T2. Route 40 runs between Elizabeth Quay Bus Station and T3/T4. If you plan to take the bus, be sure to check the routes, rates, and schedules on Transperth.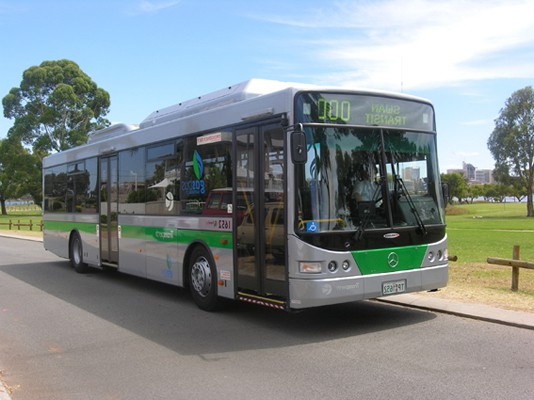 Private Airport Transfers
Taking the taxi or using public transportation is certainly convenient but they also have a number of limitations that need to be considered when travelling. For example, taxi ranks are often plagued with long lines during peak hours and buses may not always travel near your destination.
Private chauffeur hire is another option available for Perth airport transfers.
These transportation services can be booked online or over the phone with different options available depending on your budget and travel requirements. Although hiring private transportation tends to be more expensive, it offers several advantages over the alternatives.
The most obvious is convenience as your driver can meet you anywhere to pick you up and help with your luggage. Another is the flexibility to choose a vehicle that suits any travel requirements you may have. So if you are travelling with a larger party, you would want a vehicle that can comfortably fit everyone. Or if you are travelling on business with clients, you may want a more luxurious option.
Either way, hiring a private car is a great transportation option to and from Perth Airport. If you are looking for a professional airport transfer service, we can help.
Contact us today to book a vehicle for an upcoming trip.